Message from the President, Ghana Chapter
On behalf of the board and management of the Project Management Institute, Ghana Chapter, I welcome you all to the year 2023.

The COVID-19 epidemic brought about a challenging time and season for the entire world, but the PMI Ghana Chapter, led by our current Immediate Past President (IPP - Jumoke Lafenwa), persevered and accomplished some significant progress during the upheaval. However, we realize the irreversible harm and irreplaceable losses that were inflicted on people and organizations, which also had an effect on some of our members.

Disruptions are acknowledged to be some of the most fertile grounds for achieving gains, building resilience, uncovering new grounds for growth, and forming partnerships as project managers, leaders, and change makers. We have grown stronger and more creative as a result of these innate qualities.
To the surprise of many, the PMI Ghana Chapter currently occupies a prestigious position (1294 members; 79.22% retention rate, among others), a situation that places us in a position where we will be held to a high standard. We dare not let ourselves or our supporters down!
While we stand on the echelons of professionalism, interested parties and the disappointed will test our honesty, respect for one another, and feeling of community.
To be ready for this great take-off, members and practitioners must reflect on their individual and collective contributions to the growth of the Chapter and the Profession. Furthermore, we must be willing to hold ourselves accountable for upholding the moral standards set forth in our personal and professional codes of conduct.
2023 provides a great opportunity for Project Management Professionals and practitioners to be empowered to turn ideas into reality. By this, Members of the Project Management Institute, Ghana Chapter, enabled by the wealth of knowledge, skills and Professionalism of the Project Management Institute's cutting edge certifications, will become the panacea to many organizational and societal challenges.
In 2023, our actions will be dictated by the Mission and Vision of the Chapter, which will be evident in the quality of Member Engagements, Events, Professional Development propositions and Membership drive initiatives.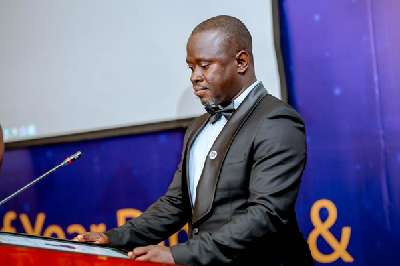 Our 2023 Annual Project Management Conference (NPMC) and Project Management Excellence Awards (PMEA) will take place on July 20th – 21st, 2023 at the ROYAL SENCHI HOTEL in Akosombo.
Our monthly Chapter Meetings, which are held on the last Friday of every month will also continue with seasoned speakers.
Our weekly book review meetings will also be continued.
Other exciting and Social Impact initiatives will also be rolled out to enhance our awareness drive and to impact society.
We are poised to muster the abilities of all stakeholders to consolidate the gains made by our predecessors and further entrench our position as the most reliable source of Project Management advocacy, Practice and knowledge in Ghana and beyond. 
I welcome you to be part of this change making paradigm
Frank owusu-Asamoah, PMP®, MSc
President