PMI Ghana Chapter
Professional Development
"We now accept the fact that learning is a lifelong process of keeping abreast of change. And the most pressing task is to teach people how to learn" Peter Drucke
CREDENTIAL FAQs
General Certification

Do I have to be a CAPM, PMP, or a PMI member to apply for other PMI certifications?
No. No one certification serves as a prerequisite for another. You also do not have to be a PMI member to apply to become a certification holder.
How do I earn a PMI certification?
To obtain a PMI certification, you must first meet the eligibility requirements on the website and detailed in the certification handbooks. Then, you must pass an exam.
What are the eligibility requirements?
The eligibility requirements for each certification are mentioned here and detailed in the handbook.
Fulfill Eligibility Criteria
Complete Application
Application Review
Payment
Schedule Test Appointment
How do I complete the application?
All certification applications are available online. Click the "Apply" button on the pmi-org web pages. Please note that any missing information on the application will delay processing.
What supporting documentation should I send with my application?
When submitting an application, you do not need to send documentation. However, you will be required to send supporting documentation if your application is selected for a random audit. To find out more about PMI's audit process, refer to the certification handbooks and the audit
FAQs
How do I pay for the Exams?
After we notify you that your application is approved, it's time to provide payment so you can move to the final stage. The fastest and easiest way to pay is through our online certification system.
Once payment is received, we'll email you an eligibility number that you'll use to schedule your test appointment. You are eligible for one year, and you may take the exam up to three times during that year.
Exam Guidance
Once I pass the exam or evaluations, what next?
You may refer to yourself as a certification holder although your certificate package can take six to eight weeks to arrive in the mail. Please refer to the "Use of Your PMI Certification" section of the handbooks for more details.
You also can start making plans for maintaining your certification by familiarizing yourself with the Continuing Certification Requirements (CCR) program and its requirements. More details on the CCR program can be found within the CCR Handbook .
How do I schedule a certification exam appointment?
Once you are eligible, PMI will e-mail you examination scheduling instructions. Follow the instructions to schedule your exam appointment at a testing center. PMI also offers online proctored exam for CAPM certification only. You can schedule your exam appointment online or by telephone. Full details can be found in the certification handbook and within the examination scheduling instructions.
Note: You will need to have submitted your certification fees and received your examination scheduling instructions in order to schedule an exam appointment.
Where will the examination be given?
All PMI exams, with the exception of the CAPM, are offered at approved Prometric Testing Centers worldwide. You can check for locations on Prometric's website .
For the CAPM exam, you can check for locations on Pearson VUE's website . You can also take your CAPM exam in the comfort of your home or office while being monitored by an offsite proctor through Pearson VUE.
Are the exams available in languages other than English?
The PMP and CAPM exams are translated into multiple languages. Please consult the respective certification handbooks for details on specific languages available. The PMI-ACP and PMI-PBA exams are available in English and Simplified Chinese. Other certification exams are not currently translated, but PMI will notify you when translations are available.
If I fail the exam, can I take it again?
If you fail the exam on your first attempt, you can re-take it two more times within your one-year eligibility period. Fees are associated with re-examination. Details for re-examination can be found in the certification handbook.
What happens if my eligibility expires and I have not taken the exam?
Your application is valid for one (1) year from the date of approval. If you allow your eligibility to lapse, you must re-apply.
All About PDUs
What are PDUs?
PDUs stand for Professional Development Units. PDUs are the measuring unit used to quantify your professional development as part of the Continuing Certification Requirements (CCR) program. 1 PDU = 1 hour of learning/activity.
Can I still earn Education PDUs the same way I used to?
Yes. You can earn your Education PDUs by attending classes offered by PMI R.E.P.s, Chapters or by your organizations or a university; attending a PMI congress, SeminarsWorld® and other events, or through self-directed learning.
Can I claim PDUs for a single Education activity in more than one skill area of the PMI Talent Triangle?
Yes. You can claim PDUs for a single Education activity under multiple skill areas (Technical Project Management, Leadership, Strategic and Business Management) of the PMI Talent Triangle..
Can I transfer PDUs to my next cycle?
Yes. Any PDUs earned above the required total (e.g. 60 for PMP) in the last year of your 3-year certification cycle can be applied to your next cycle. PDUs earned during the first two years of your cycle cannot be applied to a future cycle. For more details, please refer to the CCR Handbook .
When is the earliest I can start earning PDUs after I earn a certification?
You can start earning and reporting PDU activities as soon as you earn a PMI certification. Activities you completed prior to earning your certification will not count as PDUs towards your newly acquired certification.
When reporting PDU activities, is any supporting documentation required?
You do not need supporting documentation to report PDUs and renew your credential. When reporting your PDUs through CCRS, you will be directed to include specific information about the activity in the PDU claim form.
NOTE: PMI recommends you maintain a personal folder for all PDU-related documentation and keep this documentation for at least 18 months after your CCR cycle has ended. If you are randomly selected for an audit, you will need to provide this documentation.
Other PDP Activities
Education Matters
Breakfast Symposium
Lunch Seminars
Upcoming Events:
Book Club
ToastMasters
New Credential Holders
Monthly Webinars:
WHY SO MUCH TALK ABOUT Agile?
August 16th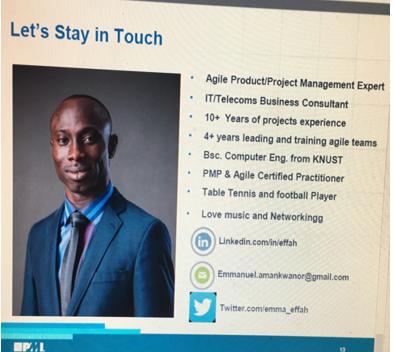 September 20th
Delivering Value thru project portfolio management (ppm)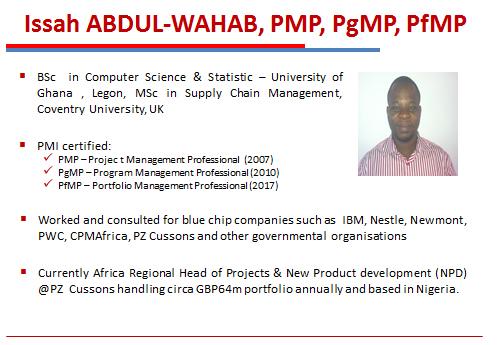 October 18th
Cyril Awere

November 15th
What you don't know about decision making
Mawutor Komla Attah; a built environment professional; a quantity surveyor; a chartered construction manager and a chartered supply chain management
December 13th
Cyber Security and Project Management
by Quaye Kandakai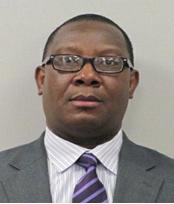 Professional Development: Org Chart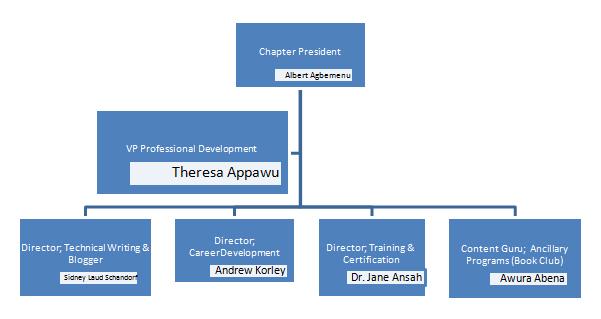 The Project Management Institute (PMI) Ghana Chapter is in the process of sending RFP to Registered Education Providers (REPs), Education Providers (EPs) and individuals to bid for PMP and Prep training for possible partnership. If you are interested or know anyone or organization who may be interested, kindly indicate or send email to info@pmi-ghana.org.